The Governor General of Canada
Her Excellency the Right Honourable Julie Payette
The contents of this Register are intended for research purposes only. The heraldic emblems found in the Register may not be reproduced in any form or in any media without the written consent of the Canadian Heraldic Authority and/or the recipient.
The Loyalist College of Applied Arts and Technology
Belleville, Ontario
Grant of Arms and Supporters
May 26, 1992
Vol. II, p. 161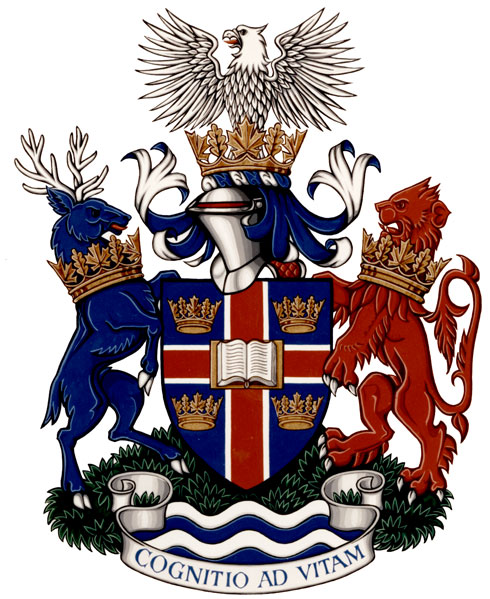 [ previous page ]
Blazon
Arms
Azure a cross Gules fimbriated Argent between four Loyalist Civil Coronets Or in fess point an open book proper bound Or;
Crest
Rising above a Loyalist Civil Coronet Or an eagle displayed Argent;
Supporters
Dexter a stag Azure attired and unguled Argent and gorged with a Loyalist Civil Coronet Or sinister a lion Gules armed Argent similarly gorged the whole set upon a grassy mound set with a base barry wavy Argent and Azure;
Motto
COGNITIO AD VITAM. This Latin phrase means "Learning through life".
---
Symbolism
In general, the symbolism of emblems prior to 2000 does not exist in an appropriate format for the online Register.