The Governor General of Canada
The contents of this Register are intended for research purposes only. The heraldic emblems found in the Register may not be reproduced in any form or in any media without the written consent of the Canadian Heraldic Authority and/or the recipient.
Michael Douglas
Bechard
London, Ontario
Grant of Arms
October 20, 2005
Vol. V, p. 2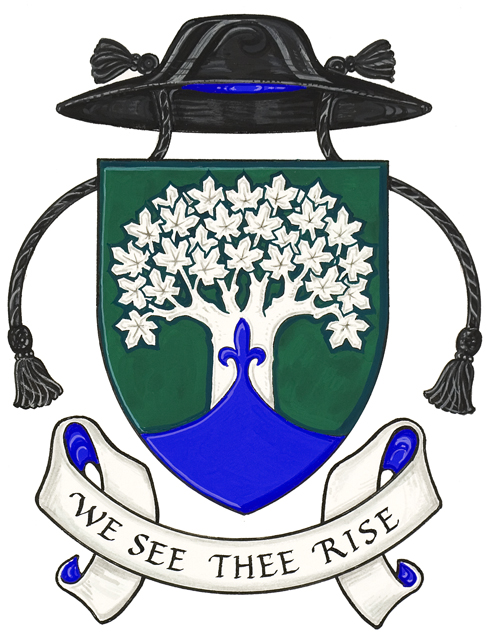 [ previous page ]
Blazon
Arms
Vert a maple tree Argent issuant from a graft fleury Azure;
Motto
WE SEE THEE RISE;
---
Symbolism
Arms
The colours of green and blue here represent the ideas of verdant land and the Holy Spirit. The maple tree symbolizes the settlement in Woodslee, Essex County, of Father Bechard's maternal family during the time of the Irish Famine in the mid-1800s. He is the fifth generation to be raised there from roots put down long ago. The tree is also symbolic of the cross of Jesus Christ, referred to as the "Tree of Life" in Revelation 2:7. The fleur-de-lis honours his father's French heritage. In Christian symbolism, it also represents the Blessed Virgin Mary and the Holy Trinity. The base symbolises that a priest in the Roman Catholic Church is called joyfully to be a watchful builder of relationships under the guidance and protection of the Holy Spirit.
Motto
This is a phrase taken from Canada's national anthem, and is expressive of Father Bechard's patriotic interests. It is also a reflection of his belief in Jesus Christ as risen from the dead.