The Governor General of Canada
Her Excellency the Right Honourable Julie Payette
The contents of this Register are intended for research purposes only. The heraldic emblems found in the Register may not be reproduced in any form or in any media without the written consent of the Canadian Heraldic Authority and/or the recipient.
R.C. Purdy Chocolates Ltd.
Vancouver, British Columbia
Grant of Arms, Supporters, Flag and Badge
October 20, 2005
Vol. V, p. 4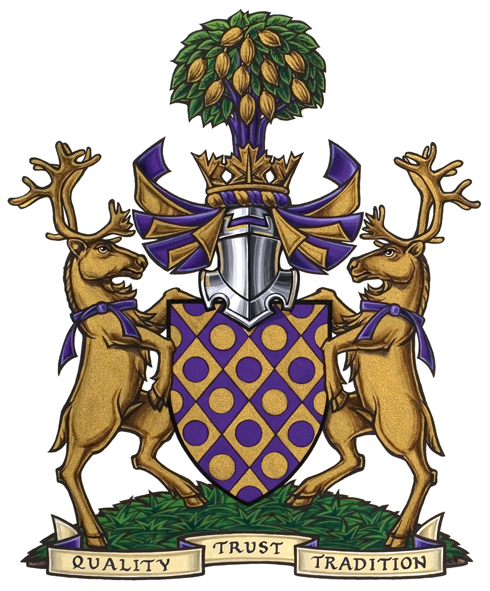 [ previous page ]
Blazon
Arms
Rustré Or and Purpure;
Crest
Issuant from a coronet of maple leaves Or, a cocoa tree Purpure leaved Vert fructed Or;
Supporters
On a grassy mound Vert two reindeer Or each gorged with a ribbon Purpure;
Motto
QUALITY • TRUST • TRADITION;
---
Symbolism
Arms
The design represents a box of chocolates as viewed from above. As well, it symbolizes the idea of expanding horizons and outreach of products if one imagines the design continuing beyond the boundaries of the shield. Purple and gold are the firm's colours, made famous through their use on chocolate boxes.
Crest
The maple leaves symbolize Purdy's as a Canadian enterprise. New growth and the source for raw chocolate are represented through the cocoa tree which is shown with its fruit, the cocoa pods.
Supporters
The reindeer allude to the festive season when demand for the company's products is greatest.
Motto
Not applicable