The Governor General of Canada
Her Excellency the Right Honourable Julie Payette
The contents of this Register are intended for research purposes only. The heraldic emblems found in the Register may not be reproduced in any form or in any media without the written consent of the Canadian Heraldic Authority and/or the recipient.
Canadian Naval Jack and Maritime Command Flag
Ottawa, Ontario
Confirmation of the blazon of a Flag
March 20, 2008
Vol. V, p. 242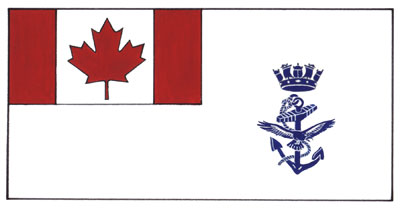 [ previous page ]
Blazon
Flag
Argent in the fly the central device of the Maritime Command badge ensigned by a naval coronet Azure, a canton of the National Flag of Canada;
---
Symbolism
Flag
The flag shown here was chosen with 14 other flags to be included on a heritage poster showing a selection of military flags of Canada. It is either still in use, or is a historical flag in the sense that it was in use in what is now Canada. These 15 fifteen flags, selected from among dozens of others, do not have a written symbolism.