The Governor General of Canada
Her Excellency the Right Honourable Julie Payette
The contents of this Register are intended for research purposes only. The heraldic emblems found in the Register may not be reproduced in any form or in any media without the written consent of the Canadian Heraldic Authority and/or the recipient.
Jacques Alfred
Dextraze
Ottawa, Ontario
Grant of Arms and Supporters
June 19, 1990
Vol. II, p. 27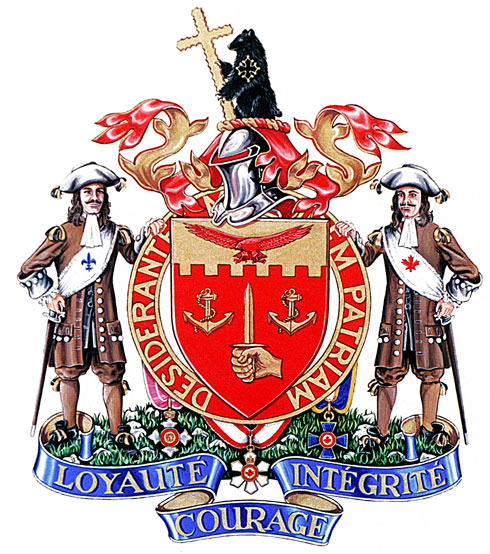 [ previous page ]
Blazon
Arms
Gules a dexter hand grasping a dagger between two anchors in chief Or on a chief embattled also Or an eagle hovering affronté Gules looking to the dexter;
Crest
A bear issuant Sable charged on the shoulder with a cross cléchée and holding between its paws a cross engrailed Or;
Supporters
Two soldiers of the Régiment de Carignan in uniform proper that to the dexter bearing on his sash a fleur-de-lis Azure that to the sinister a maple leaf Gules both standing on a grassy mound strewn with rocks proper;
Motto
LOYAUTÉ · COURAGE · INTÉGRITÉ, meaning "Loyalty, courage, integrity";
---
Symbolism
In general, the symbolism of emblems prior to 2000 does not exist in an appropriate format for the online Register.