The Governor General of Canada
Her Excellency the Right Honourable Julie Payette
The contents of this Register are intended for research purposes only. The heraldic emblems found in the Register may not be reproduced in any form or in any media without the written consent of the Canadian Heraldic Authority and/or the recipient.
Robert Gordon
Richardson
Kingston, Nova Scotia
Grant of Arms
September 11, 1991
Vol. II, p. 114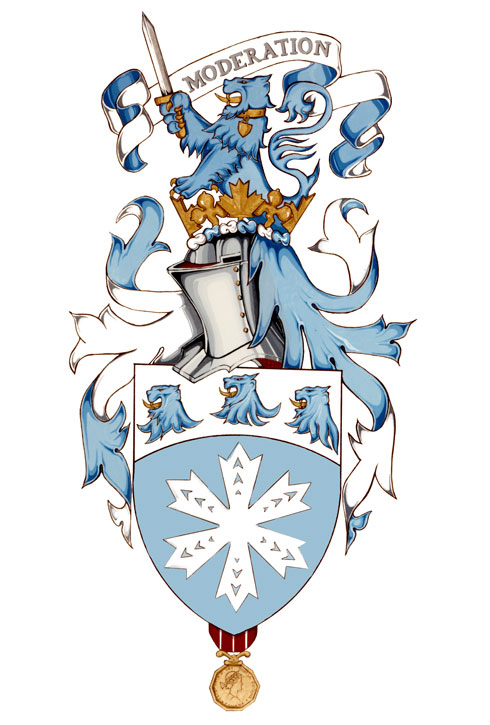 [ previous page ]
Blazon
Arms
Bleu Céleste a snowflake Argent on a chief arched also Argent three lions' heads erased Bleu Céleste langued Or;
Crest
Rising from within a circlet composed of maple leaves and trefoil Or a demi lion Bleu Céleste armed and langued Or holding in the dexter paw a sword Argent hilt and pommel Or and gorged with a collar pendant therefrom an escutcheon Or;
Motto
MODERATION;
---
Symbolism
Arms
The sky blue colour alludes to Mr. Richardson's career with the Royal Canadian Air Force and the Air Reserve of the Canadian Armed Forces. The snowflake represents Canada. The three lion heads on a chief are a feature of many other arms used by people named Richardson. They also allude to Mr. Richardson's astrological sign, Leo.
Crest
The lion repeats the symbolism of the arms. The sword alludes to Mr. Richardson's military career and the shield to his love of heraldry. The maple leaves and trefoils refer to his Canadian and Irish heritage.
Motto
Not applicable.