The Governor General of Canada
Her Excellency the Right Honourable Julie Payette
The contents of this Register are intended for research purposes only. The heraldic emblems found in the Register may not be reproduced in any form or in any media without the written consent of the Canadian Heraldic Authority and/or the recipient.
Corporation of the City of Guelph
Guelph, Ontario
Registration of Arms and Supporters
November 20, 1993
Vol. II, p. 133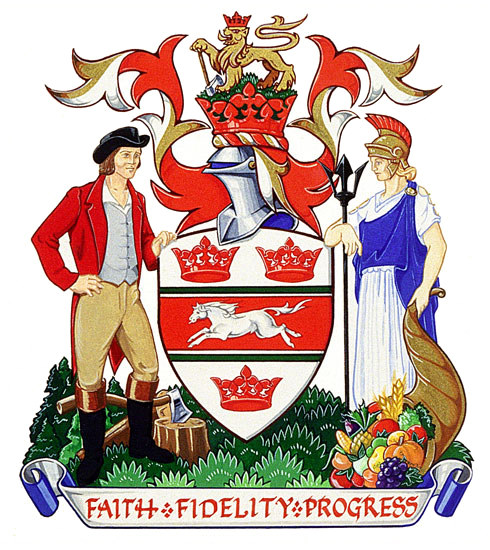 [ previous page ]
Blazon
Arms
Argent on a fess Gules cotised Vert between three ancient crowns Gules a horse courant Argent;
Crest
Within an ancient crown Gules a mount Vert thereon a lion statant Or anciently crowned Gules resting the dexter forepaw upon the haft of an axe head downwards and inwards proper;
Supporters
Upon a grassy mount with on the dexter side in front of a copse a felled tree trunk lying to the dexter in the stock an axe proper in front of the same a man with a hat open shirted in breeches and boots proper vested of a tail coat cut away Gules sinister a female figure proper vested Argent cloaked Azure wearing a helmet Or crested Gules supporting with her dexter arm a trident points upward Sable and holding by the sinister hand a cornucopia proper;
Motto
FAITH · FIDELITY · PROGRESS;
---
Symbolism
In general, the symbolism of emblems prior to 2000 does not exist in an appropriate format for the online Register.