The Governor General of Canada
Her Excellency the Right Honourable Julie Payette
The contents of this Register are intended for research purposes only. The heraldic emblems found in the Register may not be reproduced in any form or in any media without the written consent of the Canadian Heraldic Authority and/or the recipient.
Governor General's Performing Arts Awards Foundation
Ottawa, Ontario
Grant of a Badge
August 15, 1994
Vol. II, p. 337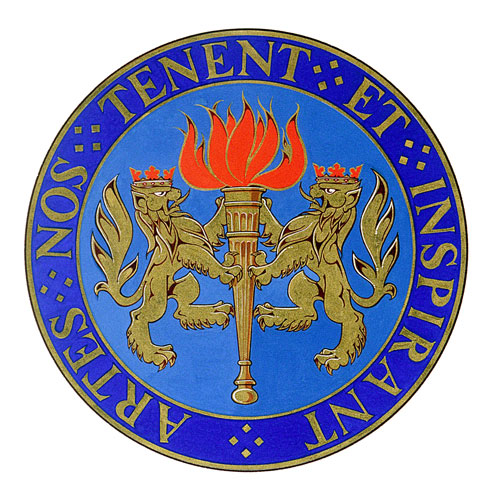 [ previous page ]
Blazon
Badge
On a roundel Bleu-Celeste two lions rampant respectant each crowned with a coronet Or érablé and garnished with jewels Gules supporting together a torch Or enflamed proper all within a border Azure edged and inscribed ARTES NOS TENENT ET INSPIRANT in letters Or;
Motto
ARTES NOS TENENT ET INSPIRANT;
---
Symbolism
Badge
The lions refer to the office of the Governor General, the official colours of which are blue and gold. The coronets of maple leaves emphasize that this is a Canadian award. The torch symbolizes the aspiration towards excellence of the candidates for the award.
Motto
This Latin phrase means "The arts engage and inspire us".