The Governor General of Canada
The contents of this Register are intended for research purposes only. The heraldic emblems found in the Register may not be reproduced in any form or in any media without the written consent of the Canadian Heraldic Authority and/or the recipient.
Bishop's College School
Lennoxville, Quebec
Grant of Arms and Badge
April 27, 1989
Vol. I, p. 15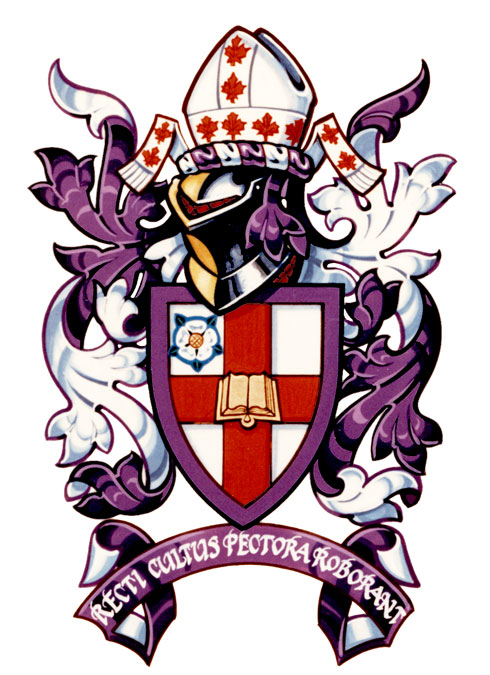 [ previous page ]
Blazon
Arms
Argent on a cross Gules an open book edged and bound Or in the canton a rose Argent barbed Vert seeded Or fimbriated Azure all within a bordure Purpure;
Crest
A mitre Argent the orphreys semé of maple leaves Gules;
Motto
RECTI CULTUS PECTORA ROBORANT;
---
Symbolism
Arms
The cross of St. George and the book are found in the arms of Bishop's University, for which the school was established as a feeder institution, hence the addition of a border. The cross of St. George shows a link to the Anglican Church. The book indicates the school's role as an educational institution. Purple is a colour used by bishops in the Anglican church, as well as being the school's sporting colour. The rose was used as an emblem by King's Hall, the girl's school which was absorbed by Bishop's College School in 1972.
Crest
The bishop's mitre alludes to the name of the school. The maple leaves on the mitre indicate the Canadian identity of the school.
Motto
This Latin phrase means "Good learning habits strengthen the hearts".