The Governor General of Canada
Her Excellency the Right Honourable Julie Payette
The contents of this Register are intended for research purposes only. The heraldic emblems found in the Register may not be reproduced in any form or in any media without the written consent of the Canadian Heraldic Authority and/or the recipient.
B'nai B'rith Canada
North York, Ontario
Grant of Arms, Supporters and Badge
January 15, 2004
Vol. IV, p. 345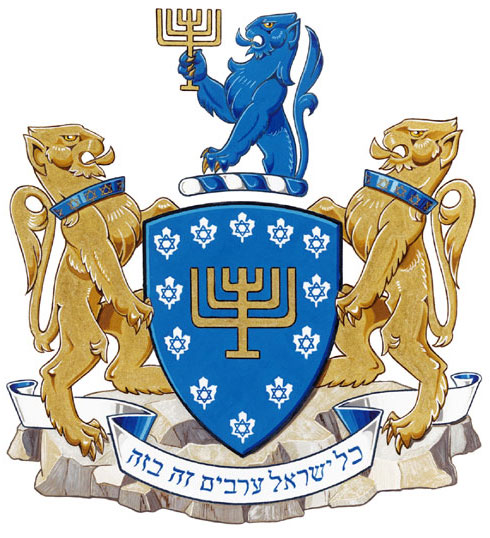 [ previous page ]
Blazon
Arms
Azure a menorah Or within an orle of twelve maple leaves Argent each charged with a Magen David Azure;
Crest
A demi lion Azure holding in its dexter paw a menorah Or;
Supporters
Two lions Or each gorged with a collar Azure charged with Magen Davids Or, standing on a rocky mound proper;
Motto
(in Hebrew);
---
Symbolism
Arms
The menorah is one of the most recognized and historic symbols of Judaism. A stylized menorah is also the current emblem of B'nai Brith Canada. The maple leaves represents the Canadian character of the organization, and the Magen David (shield or "star" of David) is another significant symbol of Judaism. Their number makes a reference to the twelve tribes of Israel.
Crest
strong and determined spirit of the organization in representing and protecting the community and in defence of human rights for all Canadians. The menorah links the crest to the arms.
Supporters
The supporters refer to the Lion of Judah and in this position symbolize the protection of the shield, the core emblem of the organization. The Magen David collars make these lions distinctive to B'nai Brith Canada. The rock represents the solid foundation that is the basis for B'nai Brith's service to the community.
Motto
This Hebrew phrase means "People helping people", or, more literally, "All of Israel is responsible one for another".