The Governor General of Canada
Her Excellency the Right Honourable Julie Payette
The contents of this Register are intended for research purposes only. The heraldic emblems found in the Register may not be reproduced in any form or in any media without the written consent of the Canadian Heraldic Authority and/or the recipient.
Ville de Longueuil
Longueuil, Quebec
Grant of Arms, Supporters and Flag, with a Badge to the Service de police de la Ville de Longueuil
May 10, 2004
Vol. IV, p. 372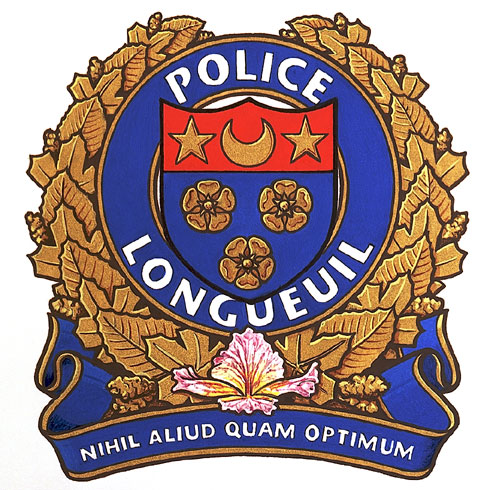 [ previous page ]
Blazon
Badge
Badge of the Service de police of the Ville de Longueuil: The shield of the Arms of the Ville de Longueuil within an annulus Azure edged Or inscribed POLICE and LONGUEUIL in letters Argent, all within a wreath of maple leaves and birch leaves Or issuant from a blue iris proper, the whole resting on a scroll Azure edged Or and inscribed NIHIL ALIUD QUAM OPTIMUM in letters Argent;
---
Symbolism
Badge
The arms of the city in the centre of the badge are surrounded by maple and birch leaves referring to the country and the Province of Quebec. At the base of the badge is a blue iris also representing the province of Quebec. The motto of the Police Department, NIHIL ALIUD QUAM OPTIMUM, means "Nothing but the best".