The Governor General of Canada
Her Excellency the Right Honourable Julie Payette
The contents of this Register are intended for research purposes only. The heraldic emblems found in the Register may not be reproduced in any form or in any media without the written consent of the Canadian Heraldic Authority and/or the recipient.
The Sherbrooke Hussars
Sherbrooke, Quebec
Confirmation of the blazon of a Badge
October 4, 2004
Vol. IV, p. 429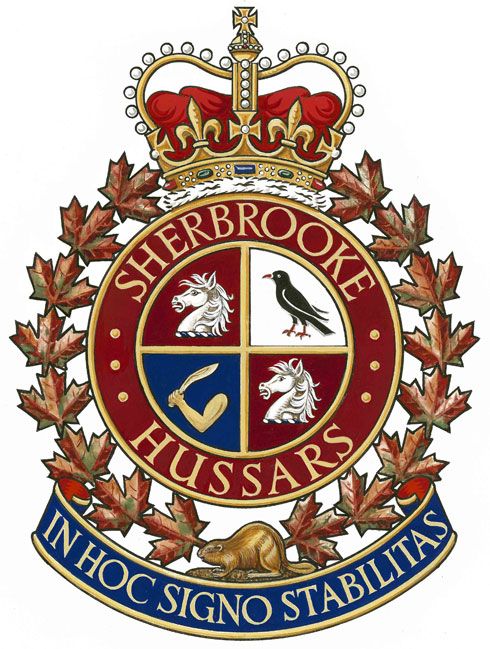 [ previous page ]
Blazon
Badge
Quarterly first and fourth Gules a horse's head Argent upon a wreath Argent and Azure, second Argent a Cornish chough proper, third Sable a sinister arm embowed the hand grasping a kukri Or, all within an annulus Gules edged and inscribed SHERBROOKE HUSSARS in letters Or, ensigned by the Royal Crown and encircled by a wreath of autumn maple leaves proper surmounted in base by a beaver upon a log Or, set above a scroll Sable edged and inscribed IN HOC SIGNO STABILITAS in letters Or.
Motto
IN HOC SIGNO STABILITAS;
---
Symbolism
Badge
The maple leaves and the beaver represent service to Canada, and the Crown, service to the Sovereign. The two horse heads represent the cavalry lineage of The Sherbrooke Regiment and the 7th/11th Hussars, the chough (bird) was taken from the coat of arms of the Aylmer family and represents the 11th Hussars, and the left arm and Kukri represent the image of an arm with a cavalry sabre formerly depicted in the badge of the 7th Hussars. "SHERBROOKE HUSSARS" is a form of the regimental title and "IN HOC SIGNO STABILITAS" is the motto of the regiment.
Motto
Meaning "Steadfast by this sign".