The Governor General of Canada
Her Excellency the Right Honourable Julie Payette
The contents of this Register are intended for research purposes only. The heraldic emblems found in the Register may not be reproduced in any form or in any media without the written consent of the Canadian Heraldic Authority and/or the recipient.
4th Princess Louise Dragoon Guards
Ottawa, Ontario
Confirmation of the blazon of a Badge
October 4, 2004
Vol. IV, p. 483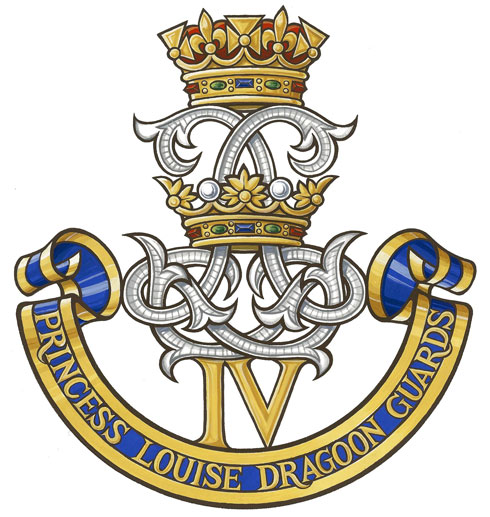 [ previous page ]
Blazon
Badge
The coronet of a marquess proper enfiled by a monogram composed of two "Ls" intertwined Argent, above the number "IV" in Roman numerals Or resting on a scroll Azure edged and inscribed PRINCESS LOUISE DRAGOON GUARDS in letters Or, the whole surmounted by the coronet of a daughter of the Sovereign proper.
Motto
PRO ARIS ET FOCIS;
---
Symbolism
Badge
The coronets and intertwined Ls refer to the Regiment's namesake, Princess Louise (1848-1939), daughter of Queen Victoria, and her husband the Marquess of Lorne (1845-1914), Governor General of Canada from 1878 to 1883. The number "IV" recalls the name of the regiment. In 1936, the 4th Hussars of Canada were amalgamated with the Princess Louise Dragoon Guards and redesignated 4th Princess Louise Dragoon Guards.
Motto
Meaning "For our altars and our homes".