The Governor General of Canada
The contents of this Register are intended for research purposes only. The heraldic emblems found in the Register may not be reproduced in any form or in any media without the written consent of the Canadian Heraldic Authority and/or the recipient.
City of Prince George
Prince George, British Columbia
Grant of Arms, Supporters, Flag and Badge
August 13, 1995
Vol. III, p. 70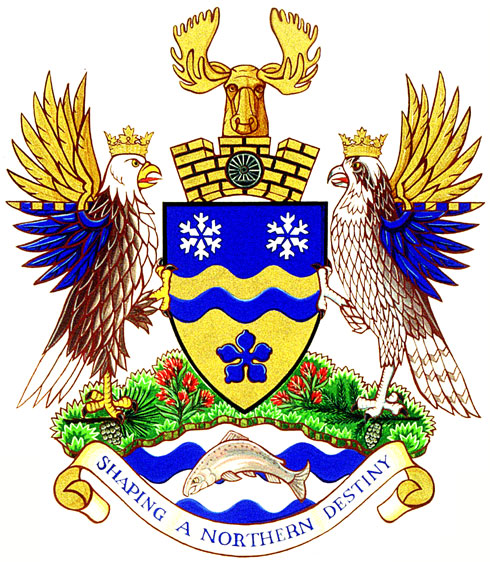 [ previous page ]
Blazon
Arms
Per fess wavy Azure and Or a fess wavy counterchanged of the field between in chief two snowflakes Argent and in base a fraise Azure;
Crest
A mural crown Or masoned Sable charged with a locomotive wheel Sable issuant therefrom a moose head affronty Or;
Supporters
Upon a mount Vert set with Common Red Paintbrush (Castilleja miniata) and dexter a lodgepole pine bough and sinister a white spruce bough both fructed all proper rising above barry wavy Argent and Azure charged with a salmon leaping also proper dexter a bald eagle the body proper winged per fess embattled Or and Azure ducally crowned Or sinister an osprey the body proper similarly winged and crowned;
Motto
SHAPING A NORTHERN DESTINY;
---
Symbolism
Arms
The blue and yellow colours were chosen to represent the water and prosperity associated with the City of Prince George and its region. The wavy bars refer to the Fraser and Nechako rivers, which converge near the City. The snowflakes symbolize the climate of this region and the development of Prince George as well as the northern sectors of British Columbia. The fraise, or strawberry flower, is a play on the founder's name, Simon Fraser.
Crest
The mural coronet indicates that these are the arms of a municipality. The locomotive wheel recalls the arrival of the Grand Trunk Pacific Railway in 1914 and the British Columbia Railway in 1952. The moose head incorporates an emblem long used by the City of Prince George and a beloved animal of the City's residents.
Supporters
The eagle and osprey are native to the area. They are made distinctive to the City of Prince George by having the wings divided horizontally by an embattled line into two colours. This feature alludes to the City's early history as Fort George, founded in 1807. Their crowns honour His Royal Highness Prince George, Duke of Kent, and the City's namesake since 1915. The eagle and osprey stand on a grassy mound with flora local to the area represented: red paintbrush (castilleja miniata), and lodgepole pine and white spruce boughs. The wavy bars and salmon recall the important role that the rivers play in this region.
Motto
This phrase repeats the meaning of the snowflakes in the shield.