The Governor General of Canada
Her Excellency the Right Honourable Julie Payette
The contents of this Register are intended for research purposes only. The heraldic emblems found in the Register may not be reproduced in any form or in any media without the written consent of the Canadian Heraldic Authority and/or the recipient.
David George
Bowyer
Cambridge, Ontario
Registration of Arms
October 5, 1999
Vol. III, p. 301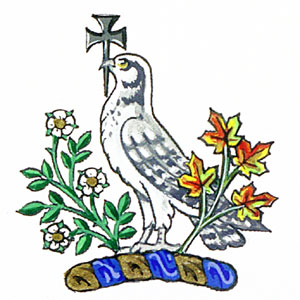 [ previous page ]
Blazon
Crest
An Osprey (Pandion haliaetus carolinensis) proper statant its dexter claw on a rose branch proper the roses Argent barbed and seeded also proper its sinister claw upon a branch of maple in its autumnal tints proper and holding in the beak a cross formy fitchy Sable;
---
Symbolism
In general, the symbolism of emblems prior to 2000 does not exist in an appropriate format for the online Register.